In this issue, we will describe Shinagawa-shuku, which prospered as the first shukuba (post station) on Tokaido Avenue (a road linking Nihonbashi in Edo with Sanjobashi in Kyoto during the Edo period). Shinagawa-shuku has attractive scenery, and traces of the old Tokaido Avenue lodging town, such as old-fashioned streets and an atmosphere with a sense of history, can still be found here. The location is the area from the Keikyu Main Line's Kita-Shinagawa Station to Aomono Yokocho Station.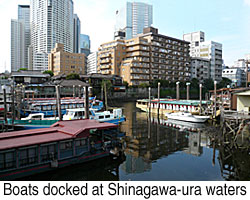 First, let's start from Kita-Shinagawa Station on the Keikyu Main Line. When Daiichi Keihin Route is in front of you facing toward Shinagawa, you can see Yatsuyama Bridge. This is the entrance to Kyu-Tokaido Avenue Shinagawa-shuku. There is a paved promenade and stone markers with the names of the 53 post stations, including Shinagawa-shuku, carved in them.

From Yatsuyama-dori Avenue, let's walk toward the boats docked at Shinagawa-ura waters. This was a sea coastline during the Edo period. Today, you can see a lot of yakatabune (roofed recreation boats) anchored here. If you walk along the avenue, you will reach Kagata-jinja Shrine. It is a small shrine that has kujira-zuka (monument to whales).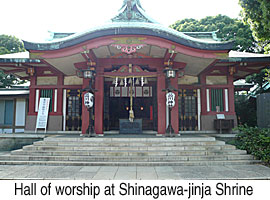 Pass through the alley and return to Kyu-Tokaido Avenue Shinagawa-shuku. If you walk along Kyu-Tokaido Avenue, you will reach Seiseki Park. During the Edo period, this was called Shinagawa-shuku Honjin (main accommodations at Shinagawa-shuku). At that time, it served as a lodging place or rest area for feudal lords and nobles who traveled back and forth along Tokaido Avenue. At the entrance to the park, there is a monument of the main-accommodation remnant.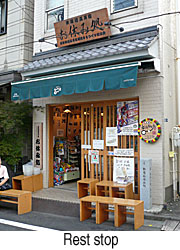 If you leave Seiseki Park and walk along Shinbanba Kitaguchi-dori Avenue from Kyu-Tokaido Avenue to Daiichi Keihin Route and go up the 53-step stone stairs, you will reach Shinagawa-jinja Shrine. Because there is a large Fuji mound (Shinagawa Fuji) on the shrine's property, why not try climbing to the top?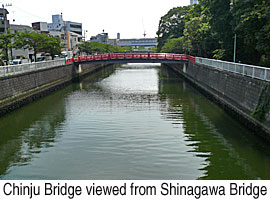 If you return to Kyu-Tokaido Avenue and walk along it, you will find Shinagawa-shuku Koryukan (community lounge) on the left. Here, you can obtain an English version of the Town Stroll Map, which would make your leisurely stroll even more enjoyable. There are several more rest stops on the avenue, and you can find copies of the map there, too. Right by Shinagawa-shuku Koryukan, there is Shinagawa Bridge, which stretches across Meguro-gawa River. From Shinagawa Bridge, you can see the crimson Chinju Bridge, and at the foot of the bridge is Ebara-jinja Shrine, which is surrounded by natural greenery.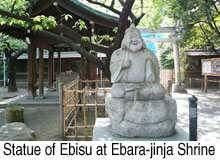 Cross the bridge and enter Minami-Shinagawa. Here, Kyu-Tokaido Avenue is paved in stone, creating a special atmosphere. From here, Shinagawa-shuku extends along the road up to Minami-Shinagawa, Aomono Yokocho. Beyond Shinagawa-shuku is Higashi-Oi, and Kyu-Tokaido Avenue continues along through Samezu, Tachiai-gawa River, and Suzugamori until reaching its final destination, Kyoto. Because Shinagawa Shukuba Matsuri will be held in late September, why not step out and see this unique part of town?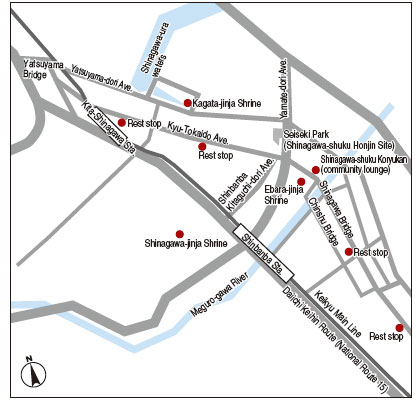 Shinagawa Shukuba Matsuri
:
There will be street stalls along approximately 2 km of Kyu-Tokaido Avenue, from Yatsuyama Bridge to Aomono Yokocho. There will also be a parade of people dressed as samurai and townspeople of the Edo period and various other events and performances. September 26 (Sat.), 2009, 2:00 to 8:00 p.m. and 27 (Sun.), 11:00 a.m. to 8:00 p.m.