---
Equine Museum of Japan (Negishi Keiba Kinen Koen Uma no Hakubutsukan): 10am to 4:30 pm; Closed Mon.
100 yen for adults; 30 yen for children. Take bus from Negishi Sta., Sakuragicho Sta., Ishikawacho Sta., Hinodecho Sta., or E. Exit of Yokohama Sta. Walk 20 minutes from Yamate Sta. or Negishi Sta. It is next door to the Negishi Shinrin Koen Park. Tel: (045 662-7581/fax: (045) 662-7713. At the Pony Center the Pony-riding Day (Jouba Dee) is featured the 3rd Sun. of each month. Small children can enjoy horse-driven carriages and elementary and middle-school children can ride on the horses from 1pm. Ninjin Time during which children can feed carrots to the horses and pet the animals is held every Sat., 1:30-1:45pm. The horse is the seventh of the twelve animals in the Oriental Zodiac and 2002 (Heisei 14) is the Year of the Horse. The Hour of the Horse is noon. (URL: http://www.bajibunka.jrao.ne.jp/) in Japanese only
The Japan Association for International Horse Racing

(JAIR Keiba Kokusai Koryu Kyokai)
JRA ( Japan Racing Association/Nihon Chuo Keiba Kai )
(
URL: http://japanracing.jp/
)
---

| | |
| --- | --- |
| Sapporo | Admission fee: 100 yen, reserved seats 600 yen, 1,000 yen & 1,600 yen |
| Hakodate | Admission fee: 100 yen, reserved seats 600 yen & 1,000 yen |
| Fukushima | Admission fee: 100 yen, reserved seats 1,500 yen & 2,000 yen |
| Niigata | Toyosaka-shi, Niigata-ken. Admission fee: 100 yen. |
| Tokyo | Tokyo Racecourse (Tokyo Keibajo) Representative JRA racecourse, with a 500m home straight, the longest in Japan. 1-1 Hiyoshicho, Fuchu-shi, Tokyo-to 183-0024. Fuchu Keibajo Seimon-mae Sta. (Keio Line from Shinjuku) or Fuchu Honmachi Sta. (JR Nanbu Line), walk 5 min. From 9am. Tel: (042) 363-3141, fax: (042) 340-7070. Admission fee: 200 yen, reserved seats 500 yen, 1,500 yen & 2,000 yen. While you are there you might want to check out the JRA Racing Museum (JRA Keiba Hakubutsukan) 10am-4pm; Sat. & Sun., 9:30am-4:30pm and FREE on non-race days. Otherwise it is 200 yen for adults, 100 yen for children. Closed Mon., Tue. & Fri. Museum, tel: (042) 363-3141. (URL: http://www.bajibunka.jrao.ne.jp/) in Japanese only |
| Nakayama | Nakayama Racecourse (Nakayama Keibajo) 1-1-1 Kosaku, Funabashi-shi, Chiba-ken. JR Nishi Funabashi Sta., by bus. Tel: (0473) 34-2222. Admission fee: 200 yen, reserved seats 1,800 yen & 2,800 yen. This the racecourse which made 87,501,042,400 yen on one race at Arima Kinen on Dec. 22, 1996 (Heisei 8). |
| Chukyo | Toyoake-shi, Aichi-ken. Admission fee: 200 yen, reserved seats 1,500 yen, 2,000 yen & 3,000 yen. |
| Kyoto | Admission fee: 200 yen, reserved seats 3,000 yen & 3,000 yen. |
| Hanshin | Takarazuka-shi, Hyogo-ken. Admission fee: 200 yen, reserved seats 2,000 yen, 2,500 yen & 3,500 yen. |
| Kokura | Kita Kyushu-shi, Fukuoka-ken. Admission fee: 100 yen, reserved seats 1,000 yen & 1,500 yen. |
(Discounts are available for JRA member cards holders)
Calendar (URL: http://www.jra.go.jp) (in Japanese only) xxxxx NAR (The National Association of Racing/Chiho Keiba Zenkoku Kyokai) (URL: http://www.keiba.go.jp) in Japanese only NAR Racecourses Kitami, Iwamizawa, Obihiro, Asahikawa, Mombetsu, Sapporo, Morioka, Mizusawa, Kaminoyama, Niigata, Sanjo, Ashikaga, Utsunomiya, Takasaki, Urawa, Funabashi, Ohi*, Kawasaki, Kanazawa, Kasamatsu, Nagoya, Chukyo, Sonoda, Himeji, Masuda, Fukuyama, Kochi, Saga, Arao, Nakatsu
*Ohi -- Ohi Racecourse (Ohi/Ooi/Oi Keibajo) The only racecourse inside Tokyo operated by the local government. Tel: (03) 3763-2151. Tel: 0180-993-811 for race results. Races in East Kanto Area (URL: http://www.keiba.go.jp) in Japanese only Xxxxxxx
N.B.: FLASH PHOTOGRAPHY IS STRICTLY PROHIBITED WHEN TAKING PHOTOS OF THE HORSES,
BE IT DURING THE YABUSAME HORSEBACK ARCHERY OR OTHERWISE. THANK YOU.
---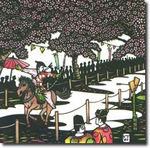 Naked Festival
(Tokimata no Hadaka Matsuri)
The semi-naked participants bearing portable shrine with a figurine of sacred horse (shinba) and a portable shrine with rice bales (komedawara) or sake rice wine barrels, jump into a river. (The nearest Sun. to the first horse day of the year that differs every year), Chokokuji Temple, Iida-shi, Nagano-ken.
Kite Fair(Tako Ichi)
A kite charm to protect the bearer against fire can be purchased at the shrine. On the first Horse Day of the Year (hatsu-uma) which differs each year, Oji Inari Jinja Shrine, Oji Sta. (JR Keihin-Tohoku Line). Shrine (03) 3907-3032. February 12 there are also festivals at Kasama Inari Jinja Shrine, Kasama-shi, Ibaraki-ken Prefecture and Kyoto Fushimi Inari Jinja Shrine, Kyoto-shi which was the 4th (following Meiji Jingu Shrine, "Naritasan" Shinshoji Temple and Kawasaki Daishi Temple) in the ranking of a new year's pilgrimage overtaking this year the Tennoji Temple in Osaka.
Horse Day Festivals
The second Horse Day of the Year (end of Feb.) festivals are held at Ootayama Jizoson Temple, Otawara-shi (Ootawara), Tochigi-ken and at Chikukoma Jinja Shrine, Iwanuma-shi, Miyagi-ken.
Horseback Archery
(Yabusame)
Early April, Miyazaki Jingu Shrine, Miyazaki-shi, Miyazaki-ken. Miyazaki-shi Kankou-kyoku (0985) 20-8658.
Horseback Archery (Yabusame)
Started as a court ritual around the year 700. It became very popular when Shogun Minamoto no Yoritomo promoted horsemanship and spiritual training for his warriors. Today, exciting demonstrations are held in spring and autumn. Mid-April, Sumida Koen Park, Asakusa Sta. (Ginza Line). Taito Hall (03) 5246-1111.
Kawanakajima Battle
Re-enactment of the decisive Kawanakajima Kassen Battle between Takeda Harunobu (Shingen) and Uesugi Terutora (Kenshin) who battled for ever in the 16th C. Mid-April, Isawa Sta. (Chuo-Honsen Line). City Hall (0552) 62-4111.
Horse-racing (Hachifuugusa Keiba)
This horse racing (400-meter course) began as an entertainment for farmers and about 40 horses take part. Mid-April, Hachifu Jinja Shrine, Komono-cho, Mie-gun, Mie-ken. Komono-cho Kikaku Kanko-ka (0593) 93-1121.
Yabusame Shinji
Horseback archery ceremony held May 3, 1pm, Shimogamo Jinja Shrine, Sakyo-ku, Kyoto-shi, Kyoto-fu. Shimogamo Jinja-mae Bus Stop. ShimogamoJinja (075) 781-0010.
Uesugi Matsuri
A mock Kawanakajima Battle on the shores of Matsukawa River is held early May, 2pm. Yonezawa Sta. Yonezawa-shi, Yamagata-ken. Tel: (0238) 22-5111.
Kurayami Matsuri
Festival in the dark with a horseback archery (yabusame) by high priests at 9:30pm. May 5, Okunitama Jinja Shrine, Fuchu-shi, Tokyo-to. Fuchu Sta. (Keio Line from Shinjuku Sta.). Tel: (0423) 62-2130.
Yabusame Matsuri
Held May 5, Sengen Taisha Shrine, Fujinomiya Sta. (JR Tokaido Line). Shizuoka-ken. Town Hall (0544) 27-2002.
Toshogu Shrine Spring
Festival Mid-May, 1:30pm at the riding grounds near Shimo-Shindo. Nikko Sta. (Tobu Line from Asakusa Sta.). Nikko-shi, Tochigi-ken. Tel: (0288) 53-3795.
Dosun Matsuri
A memorial service for the Miura feudal lords (daimyo) featuring horseback archery on the beach. May 27, Arihama Kaigan Beach, by bus to Aburatsubo from Misaki-guchi Sta. (Keikyu Line from Shinagawa). Town Hall (0468) 82-1111.
Chagu-Chagu Umako
festival which features a procession of horses with all kinds of decorations and bells. Colorfully dressed up children are riding them. Early to mid-June, during the day in Takizawa-mura Village, Morioka-shi Town, Iwate Prefecture in Tohoku region. The parade walks from the shrine at Takizawa-mura Village along the paddy fields to Morioka where they "park" so you can go around and get a close look of the horses.
Morioka-shi
Iwate-ken. Tel: (0196) 51-4111. Soma Nomaoi Festival Held July 23-25. Haranomachi Sta. (JR Joban Line). Tel: (0244) 22-3064.
Yabusame
The mounted archers of the Ogasawarayu School of archery, dressed in colorful traditional costumes, shoot at two, 55-cm wooden targets as their horses gallop down the 160-meter course. Mid-Sept., Tsurugaoka Hachimangu Shrine, Kamakura Sta. (JR Tokaido Line). Kamakura Tourist Office (0467) 23-3050.
Samukawa Shrine Autumn Festival
(Samukawa Jinja Reitai Sai)
Mid-Sept. Samukawa Jinja Shrine, Samukawa-cho, Koza-gun, Kanagawa-ken. Samukawa Jinja, Miyama Sta. (JR Sagami Line). Tel: (0467) 75-0004.
Baji Park
(Baji Koen)
Ancient polo, horse race for armor-clad riders, and other horse-related events are held mid-Sept., Baji Koen, Setagaya-ku. Nodaimae-bound Tokyu Bus from Shibuya Sta. S. Exit. JRA (03) 3429-5101.
Kamogawa Horseback Archery
(Kamogawa no Yabusame) in which the next year's harvest is judged from the marks of the target is held September 28, 3pm, Kippo Hachiman Jinja Shrine, Kamogawa-shi, Chiba-ken. Awa-Kamogawa Sta. (JR Sotobo Line). Kamogawa City Hall, Shoukou Kankou-ka (04709) 2-1111.
Horseback Archery (Yabusame)
Early to mid-Oct., Toyama Koen Park, near Ana Hachimangu Shrine, Waseda Sta. (Tozai Line). Shrine (03) 3203-7212.
Horseback Archery (Yabusame)
Famous for its three-horse race. November 3, 2:30pm, Izumo Inamihi Jinja Shrine, Moroyama-machi, Iruma-gun, Saitama-ken. Higashi Moro Sta. (Ogose Line), change at Sakadoshi Sta. (Tobu-Tojo Line). Shrine (0492) 95-2112.
Archery Horse-riding
November 3, Omi (Oomi) Hachiman Jinja Shrine, Omi Hachiman-shi, Shiga-ken. Tel: (0775) 22-3725.
Meiji Shrine Autumn Festival Horseback Archery (Meiji Jingu Aki Reitai Sai Yabusame)
Early-Nov., ancient archery event (momoteshiki) and horseback archery (yabusame). Shrine (03) 3379-5511.
Horseback Archery (Yabusame)
November 23, Fukiage-cho, Hioki-gun, Kagoshima-ken. Tel: (0992) 96-3632.
Horseback Archery (Yabusame)
November 23, Sumiyoshi Jinja Shrine, Sueyoshi-cho, Soo-gun, Kagoshima-ken. Tel: (0986) 76-0188.
Gun Festival (Teppou Matsuri)
annually Dec. 14 & Dec. 15 and the most lively time is the final day. Dec. 14, 2pm, festival floats procession and Kabuki. Dec. 15, activities from noon feature Kabuki several times in the afternoon, 3:30pm, a feudal lord procession (daimyo gyouretsu), 4pm, the highlight of this festival -- a horse race accompanied by the firing of matchlock arquebuses, and 4:30pm, a parade of two festival floats. Oganomachi Hachimangu Shrine, Seibu-Chichibu Sta. (Seibu-Chichibu Line from Ikebukuro Sta.; a 2-hour ride), then 40 min. by bus to Iida Hachimangu Shrine. Tel: (0494) 75-1221.
---
The Japan Association for International Horse Racing (JAIR Keiba Kokusai Koryu Kyokai) Tel: (03) 3503-8221 Fax: (03) 3503-8226 (URL: http://www.jair.jrao.ne.jp/)

National Riding Club Association of Japan (Zenkoku Joba Kurabu Shinko Kyokai) (in Japanese only)
It has a list of riding clubs all over the country. For example, there are four listed in metropolitan Tokyo, i.e. Setagaya-ku, Shibuya-ku, Hachioji-shi & Kunitachi-shi. Abaron Jouba Gakkou in Setagaya-ku charges visitors on a weekday 6,500 yen for 30 minutes and on Sat., Sun. & hol. 7,500 yen. Membership fee can be like 200,000 per annum with additional monthly charges. Japan Race Horse Registry (Nihon Keishuba Toroku Kyokai) (URL: http://www.jrhr.jrao.ne.jp)

The National Association of Racing (NAR Chiho Keiba Zenkoku Kyokai) (URL: http://www.keiba.go.jp) in Japanese only Japan Racing Horse Association (JRHA Nihon Kyosoba Kyokai) (URL: http://www.jrha.or.jp)
---
winning WINS winning WINS winning WINS
(URL: http://www.netkeiba.com) in Japanese only
| | |
| --- | --- |
| Betting tickets | can be bought at the racecourse or at off-track betting shops called WINS. Nowadays, though, the betting can be done over the phone or the Internet. The WINS, one would imagine, are like the local sento, a place to see one's "friends" and to discuss things. |
| WINS Asakusa | 2-10-11 Asakusa, Taito-ku (Ginza Line). Ginza 2-10-13 Ginza, Chuo-ku, off Showa-dori towards Higashi Ginza Sta. (Hibiya Line). |
| Ginza-dori | Playguide Bldg., 2-6-4 Ginza, Chuo-ku, on Ginza-dori, Ginza Sta. Kinshicho |
| Higashi-kan | 3-8-2 Kotobashi, Sumida-ku and Nishi-kan 2-11-7 Kotobashi, Sumida-ku, Kinshicho Sta. S. Exit (JR Sobu Line). There is Marui Dept. Store between them. |
| Korakuen | 1-3-61 Korakuen, Bunkyo-ku, JR Suidobashi Sta. |
| Shibuya | 3-12-10 Shibuya, Shibuya-ku, Shibuya Sta., along left side of the Meiji-dori towards Hiroo, and up the hill at the Nippon Rent-a-Car along the road which leads (eventually) to Kodomo no Shiro. |
| Shinbashi | 1-1-19 Shinbashi, Minato-ku, near Hibiya City, Uchisaiwaicho Sta. (Toei-Mita Line). |
| Shinjuku | 4-2-11 Shinjuku, Shinjuku-ku, Shinjuku Sta. S. Exit, off Koshu-kaido. |
| Tachikawa A-kan | 1-3-6 Nishikicho, Tachikawa-shi, JR Tachikawa Sta. S. Exit, off Suzuran-dori. |
| Yokohama A-kan | 3-70 Miyakawacho, Naka-ku, Yokohama-shi, Kanagawa-ken and B-kan 3-136 Nogecho, Naka-ku, Yokohama-shi, Kanagawa-ken, Hinodecho Sta. (Keikyu Line). |
| Isawa | 1017 Kubonakajima, Isawa-cho, Yamanashi-ken, Isawa Onsen Sta. (JR Chuo-Honsen Line). |
---